Dress codes for Sydney weddings explained
So, you have been invited to a Sydney Wedding. Hopefully it will be amazing; great company, great drinks and also great catering!! However; what about the dress code? There are many different options which couples consider for their wedding dress code and really there are no strict rules. There are however some guidelines which are worth following to ensure you are dressed your best for a wedding.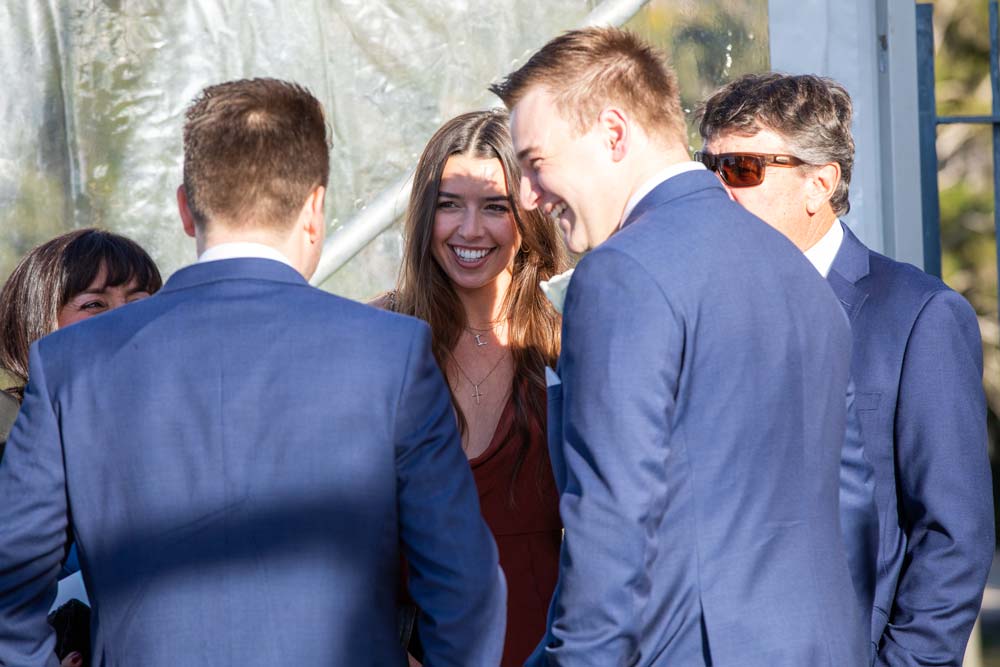 There are a number of both formal and informal dress codes which can be selected for a wedding. This depends on a number of factors including, location of the wedding, number of guests, style of the wedding, age of the guests and even the weather. Please remember that the couple has selected this style as a guide to ensure everyone is comfortable and no one is out of place so even if you may not regularly adhere to dress guidelines, it is important to at a wedding. More and more frequently we are seeing weddings without a dress code, so play it safe and over dress rather than under dress. At Boardwalk Catering we think 'cocktail dress' is always a safe bet for a wedding unless you know the venue is particularly formal. But hey, rules are meant to be broken, right?
So here are the main dress codes which you will come across when attending a Sydney wedding.
White tie:
Women: Floor length formal gown, usually gloves. This code is extremely formal and not often used anymore.
Men: Tuxedo and vest with white bow tie. This can be taken even further with a white Tuxedo. Requires a dinner shirt not just your white shirt that you wear for work. Cuff links and black shoes are a must.
Black tie:
Women: Floor length formal gown or something below the knee. Sleeves are a must – not long sleeve, just not no sleeves either.
Men: Tuxedo with black bow tie. Again, go big or go home and wear an actual dinner shirt specifically designed for a tuxedo and bow tie. You can either wear a tie-your-own or a clip on, but in our opinion, if you can you are better off going tie-your-own. Heaps of how too videos on YouTube. An actual black tie is not appropriate and the term is not literally 'black tie'
Lounge suit:
Women: Formal dress, can be above the knee. Can be with sleeves or no sleeves. Think party dress but more refined with jewellery or a jacket.
Men: Suit with a tie. Display your own personal style with embellishments such as a pocket square or accessories.
Cocktail:
Women: Formal dress, can be above the knee or a pantsuit. Refine and stylise with accessories.
Men: suit, tie optional. Generally, not a black suit and generally a solid colour shirt.
Smart casual:
Women: Pants or skirt with a nice top.
Men: chinos, suit pants, shirt, t-shirt (dressed up). Not board-shorts or thongs. Think upmarket BBQ.
So, there you have it, Boardwalk Catering's guide to the Sydney wedding dress code. Remember you are meant to be at a wedding for fun and the day is ultimately a celebration so don't sweat about the dress code too much. If in doubt, you can always give the couple a call to discuss what their expectations are for the day so that you can look your best.
Now that you have the dress code sorted, give Boardwalk Catering a call to organise the rest. We cater in a variety of venues all around Sydney and suit a large range of catering styles and budgets. We offer share platters, buffets, canapes, food stations and also formal sit-down menus in order to suit modern couples with discerning taste. We do all this with care and attention to detail to ensure our couples have the best time at their wedding.
Get in contact Sydney.