Going to a restaurant for your next family function, here is how you can save money by having a Sydney caterer.
How you can save money by having a Sydney caterer rather than going to a restaurant.
That's right, when considering your next family function, why not give a caterer a go? You can even end up saving yourself some money. Of course you should look for a reputable Sydney caterer, who cooks from a commercial kitchen and has some good reviews or can provide you with testimonials.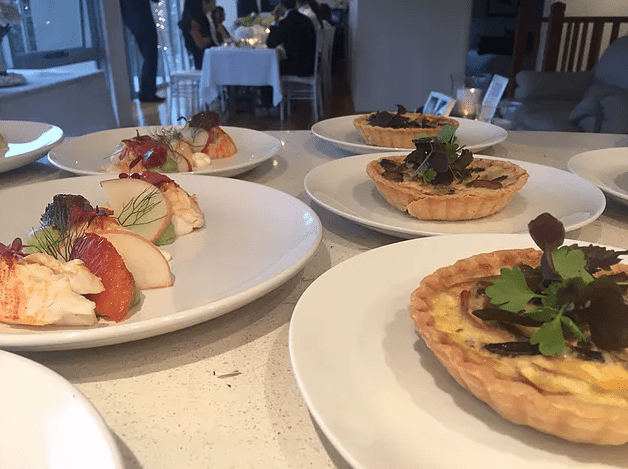 Finding a catering company in Sydney is almost as easy as finding a restaurant. It is important to enquire with the company to see if they are suitable for you. This will also let you get a feel for the caterers style and how they can help. From there you can enquire for pricing details, inclusions and menu. It is here where you can actually end up saving money.
Firstly, the caterers come to your house or a venue of your choice. This means there are no parking charges, which you would have to pay to go to some restaurants. Many Sydney caterers such as Boardwalk Catering also provide beverage packages, but if you want to save even more, consider providing your own beverage. No corkage which saves again but it is a little more work, selecting, ordering and getting ice and beverage for a function.
Secondly, Sydney caterers are often pretty helpful. They will provide an itemised invoice of exactly which items will cost what meaning that you can choose to save in different areas. Generally you will know the cost and know exactly what you are going to get on the day. This is different to a restaurant where you will only know the total at the end of the meal and can be stuck with a rather large bill.
Finally, if you are having catering at home, you are able to save on a function room hire fee, which is often charged for large gatherings. This can sometimes be hundreds of dollars and is an easy way to save. It can also be a lot nicer to have a function in your home in a familiar setting.
What ever your choice, Boardwalk Catering can basically bring a whole restaurant to your home. From amazing food, quality beverage, full bar set up and staffing. As well as this we provide styling through our reputable supplier network and hire from our hire providers. So remember for your next family function or event requiring a restaurant, give Boardwalk a call and see if we can help.
Have a great day!