Our Sydney Corporate Catering Molecular Gastronomy Event
On Wednesday last week we were lucky enough to be invited to cater for a very unique corporate event. The request was simple, give us a menu which surprises the guests and gets people thinking that some things are not what they seem.
Drying edible stones
Carrot 'caviar'
Pumpkin Bon Bon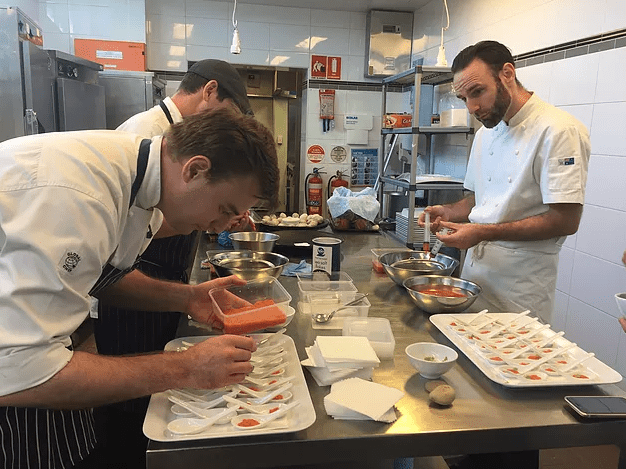 We had the brief and set about creating something special. I consulted with a number of our senior chefs and we discussed many options before settling for the following.
– Salmon pearls (which would actually be made from carrot juice)
– Pumpkin bon bons (which would have a hard exterior and when bitten into give way to a very soft and sweet interior)
– Edible stones (which would actually be potatoes)
All were designed with the guest in mind. If there is one thing we have learned in the many years of catering in Sydney, it is put the guest first.
The problem with designing a brand new menu for an event is that there is extensive research and development involved to ensure the product meets the guests expectations, the quality is appropriate and that it tastes amazing.
The research and development began and we ended up ordering edible chemicals from Melbourne to use in the process. Our first two tests were very promising with good results, however our edible carrot pearls did need some work. We looked at juicing our own carrots, store bought carrot juice and carrot and ginger juice for both flavour comparison and properties to create round 'caviar' shapes. In the end we settled on juiced carrots as they had the best flavour, colour and were able to be easily mixed with the edible chemicals.
In the end the event went on without a hitch. The feedback we received from the client was fantastic. Her comment stated "I saw more than a few middle-aged men giggling excitedly about biting into a 'river stone'!"
This was excellent news for us and exactly what we set out to achieve! Sydney Catering at it's best and much more than traditional corporate catering. Food which the guests can interact with, food with brings delight, food which creates memories, food which inspires, food which tricks the mind and food that tastes delicious.
Boardwalk Catering chefs
Get in contact for your own molecular event. We had many more canapé options which we didn't get to produce and we would be delighted to help you out.
Edible stones