Wedding Catering Sydney
The team at Boardwalk Catering absolutely LOVE weddings. We love being at them, we love catering at them and we love talking about them. Alli and Tim our Directors recently were married and catered their own wedding! Wedding catering is constantly changing in Sydney with various trends changing what each couple wants at their wedding. No longer are wedding receptions confined to the alternate serve main course, on the rise in popularity are table buffets, canape receptions and even food station catering.
Why do we do Wedding Catering in Sydney? Well mainly because we love to see happy people. Wedding days are often the happiest days of people's lives. Friends and family members are also there to celebrate the day and have a good time. All this combined adds up to the best day filled with friends and family, laughter, fun and good food! We also love the personal nature of weddings where our clients can come in to our commercial kitchen and we can sit down with them for a complimentary tasting and to discuss their wedding vision. We can be involved as little or as much as our clients would like in their wedding.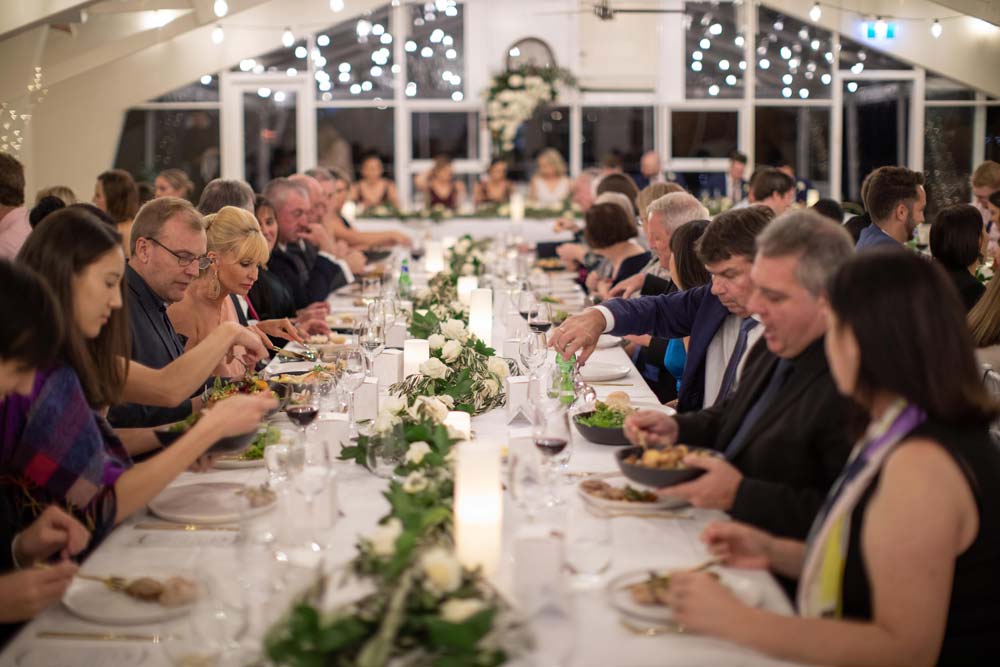 What is the Boardwalk process for Wedding Catering? – Enquire about your wedding with Boardwalk Catering. This can either be over the phone or via email. Sometimes our clients know exactly what they want for their wedding, other times our clients have no idea. Either way is fun for us for different reasons. Firstly, if the client has a clear vision for their wedding, we can easily provide quotes and plans for their wedding goals. If our client does not have a clear vision, then we are able to provide recommendations and ideas for their wedding day. – Tasting. Once you have had a look at our menus and what we can offer for your wedding catering, we will invite you and your fiancé in for a complimentary wedding tasting at our commercial kitchen in Artarmon. This no obligation tasting is so that we can get to know you better and understand your wedding vision. It also lets you meet our team and taste our food. The goal of this tasting is to demonstrate to you our level of quality, portion sizes, attention to detail and to build a relationship. – Wedding Catering quote. Once we have met you and your fiancé, discussed what you would like for your wedding and understood your vision, we provide a detailed quotation to suit. – Tailoring the Wedding Catering quote. After you have had a look at the quote, we can tailor it further to suit your needs. We can go back and forth an unlimited number of times (we want to get it right for you).
– Finalising the Wedding Catering quote. Approximately 1 month before your event we will finalise the quotation for your Wedding Catering. We can continue to make changes and additions but we get the main points sorted to ensure we are on the same page. – On the day. We execute your wedding vision in a relaxed way but with attention to detail and care. Our meticulous planning ensures that we don't bother you too much on the day and guarantees everything runs like clockwork. We obviously look after the food, but can also assist with beverages, staffing, theming and can also recommend our network of florists, DJ, band, styling and even complete wedding planning. All we want is for your day to be the best it can be! Not a small ask, but we ensure everything at our end is perfect so you don't have to worry.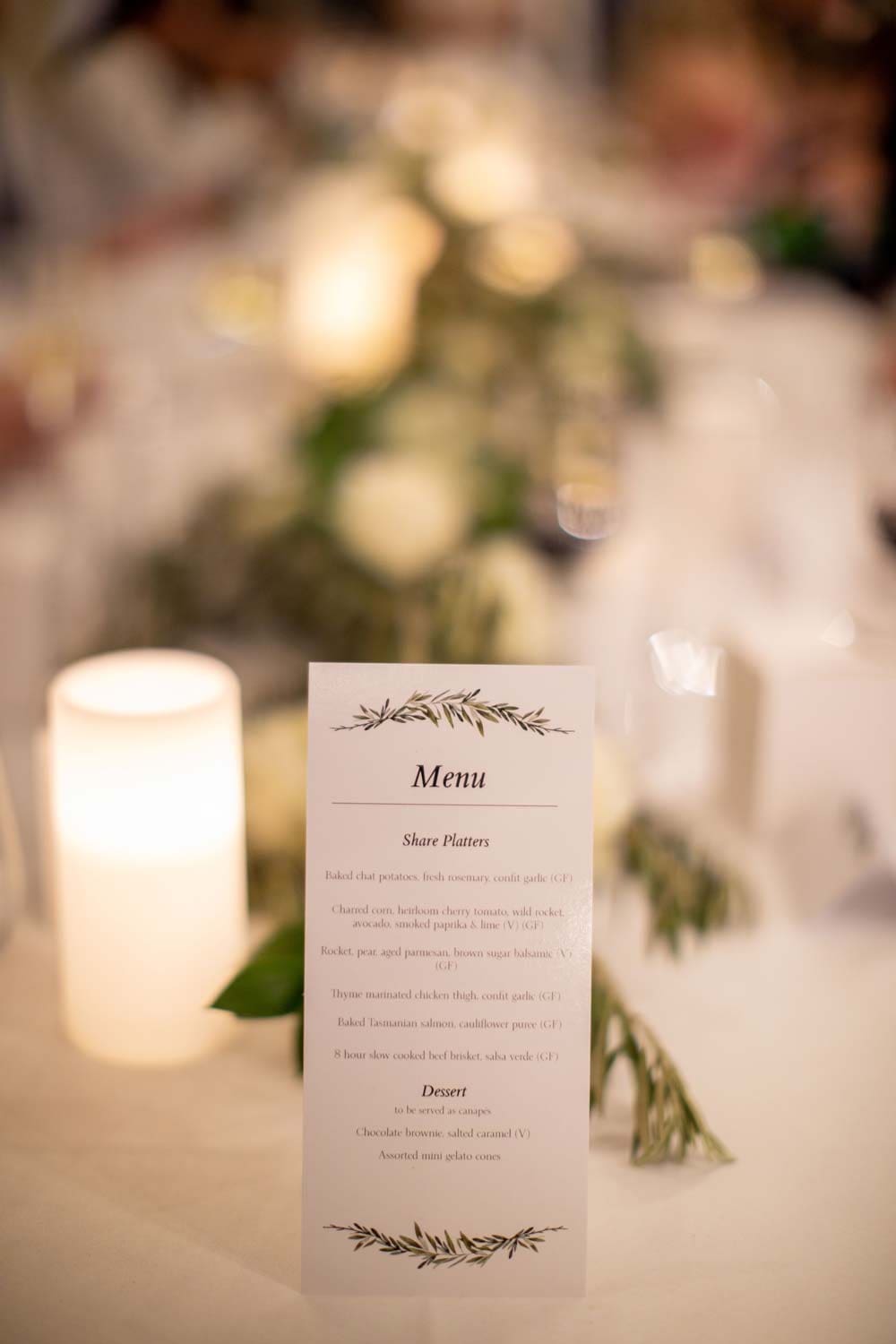 So, what do people say about our wedding catering? Well we love getting feedback from weddings, often we are lucky enough to receive hand written notes and even flowers. Here are a few reviews which we have received recently from our lovely brides and grooms.
"Amazing!!!! Cannot recommend this team highly enough. They did food stations at my wedding and everyone LOVED it. From the start Alli was very quick to respond, easy to work with, accommodating and very well priced. The food was delicious, the presentation was on point and the service was phenomenal. Many people even mistook Alli for the wedding coordinator because she was so organised and professional. They even gave us left overs for the next day. If we ever need catering again we will use them! Thank you Alli and Tim" – Georgie
"From the initial stages of planning to the big day, communications were fantastic. Alli (of Boardwalk Catering) was friendly, professional and quite accommodating to our needs. My husband and I love our food so we needed a caterer who can deliver delicious food at our wedding and they delivered! You've done an amazing job. Thank you again Tim and Alli." – Erita
"John and your team are AMAZING. I was so so so impressed. I really thought that I would have to do a lot on the night but John was so on the ball and the rest of the team were so professional that there was hardly anything for me to do except enjoy the night. Perfect. You have been a dream to work with from day one and Becca and Jack told me that your husband is not only a fantastic chef but a lovely guy. I am Boardwalk Catering's No 1 fan. I can't believe how luck we have been to work with you. I feel like having a big party just so I can use you again." – Veronica
So if you are in any stage of your wedding planning and are considering a wedding caterer, please give our event team a call on 0434 917 069 or send through an email to info@boardwalkcatering.com.au . We are always more than happy to talk about weddings or any wedding related topics. We are also happy to provide guidance or assistance for your wedding day or wedding catering needs.