2020 wedding catering trends for Sydney
Wedding catering in Sydney is and always will be rapidly changing, with influences from around the globe affecting what brides and grooms envisage as their dream wedding. As trends change, so do these ideas of the perfect wedding.
A large part of this is the food component or catering that takes place during a wedding. Again, this is affected by many factors including even the time of day. More and more we are noticing however; that brides and grooms are opting to steer away from the plated dinner. They are instead choosing other options such as share plates, food stations and even canapé style receptions. All these options and more are offered by Sydney wedding catering company Boardwalk Catering (that's us!) We specialise in weddings and thought that we would put a little more detail into these other catering options.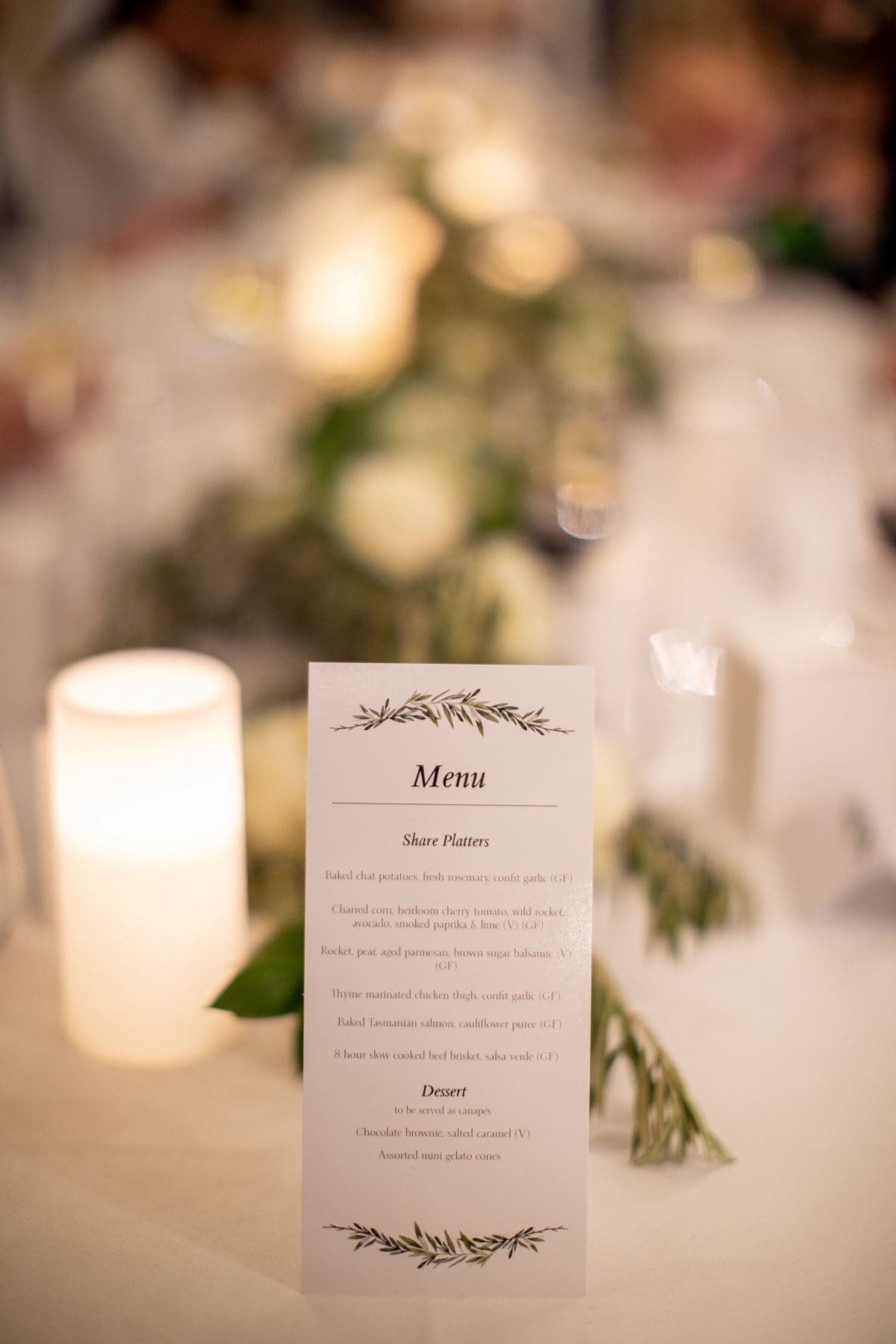 Share plates for wedding catering:
Share plates are probably the biggest mover and / or shaker in terms of wedding catering trends in the past 5 years. They have jumped massively in popularity and are essentially just a buffet, which is served on the table in front of your guests. Boardwalk Catering uses smaller bowls and plates in order to ensure these share plates can be easily passed around the table. Tim and Alli the Directors of Boardwalk Catering even had share plates at their own wedding.
The benefits of share plates for wedding catering
are that our brides and grooms are able to have a range of different food items which generally are tailored to their individual styles and tastes. This also means that they are able to cover off a range of dietary requirements without selecting additional dishes or changing menu items. This style of food works especially well when guests attending the wedding may not know each other well. It provides a good icebreaker for conversation and as the name suggests, promotes sharing!
The drawbacks of share plates for wedding catering
are that because of the higher number of dishes required to cater the function, often wider tables may be required to fit everything which generally are not stocked at venues and take up a little more of the venue. Boardwalk Catering has a range of hire suppliers who can provide these wider tables to ensure you can accommodate the extra dishes and range of food.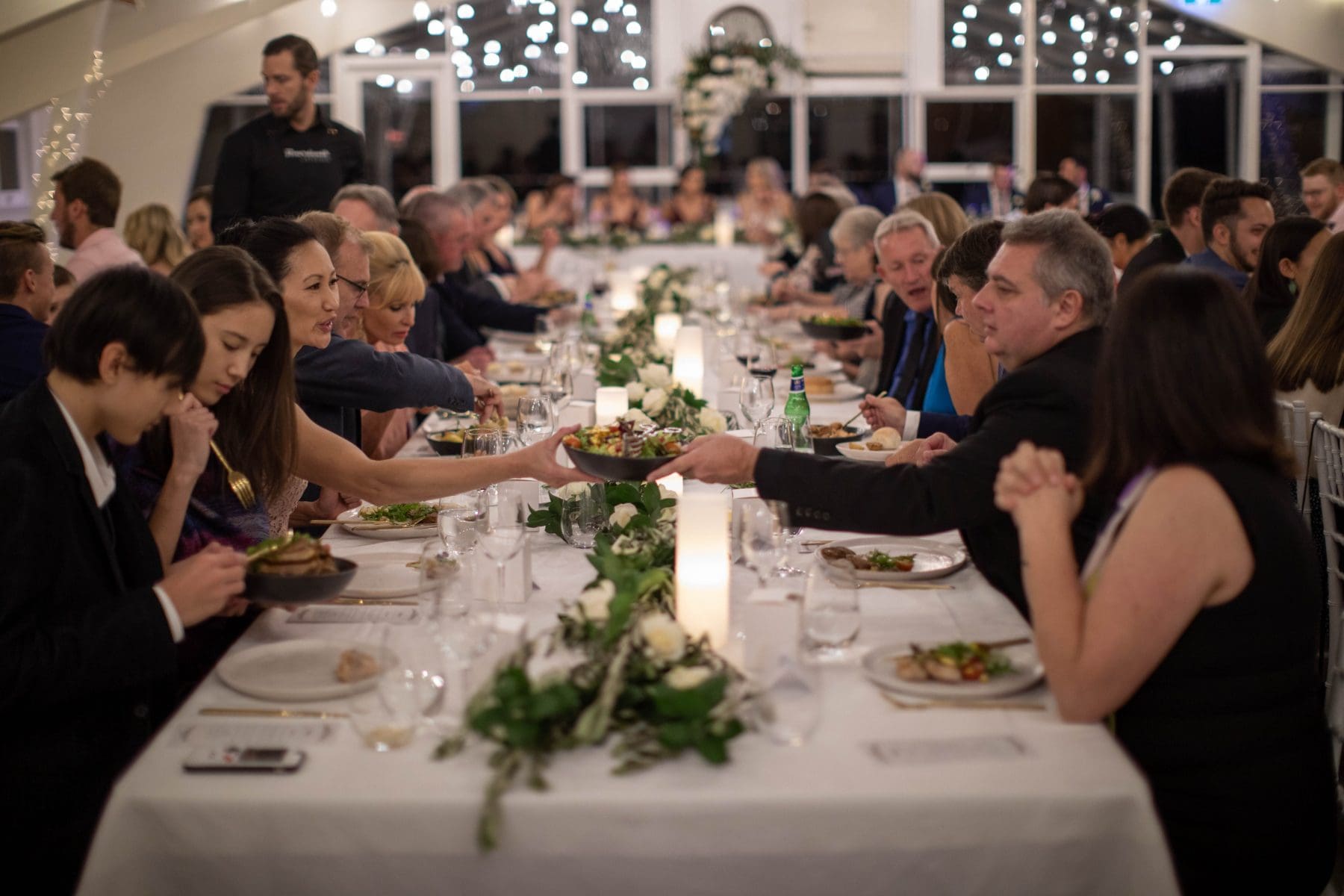 Food stations for wedding catering:
Food stations are similar to share plates as a large variety of food items can be served. They are set up a little differently however with the stations being presented around the room for guests to help themselves. This means that guests are able to come past and interact with the station, talk with chefs, build their own slider or maybe even decorate their own brownie. These stations provide a real talking point at a wedding with something interesting to keep guests interested before the dancing and real party starts.
The benefits of food station wedding catering
are that a wide variety of food can be served and they are interactive for guests. They are also able to be easily customised and styled to suit the wedding theme or the theme of the station. For example, a dumpling station may have bamboo around the station, banana leaves, fresh chilli and limes in order to keep with the theme, whilst a pasta station may have fresh tomatoes, capsicums and herbs.
The drawbacks of food station wedding catering
are that they often require more set up time as well as additional chefs or staff to man the stations often steaming dumplings or cooking paella. This can add additional wages to your wedding catering bill, but it is all dependant on your budget. We have a few solutions in order to reduce this slightly, such as having canapés as well as food stations and using one of the canapé chefs to then man the food station. Get in contact to discuss your options.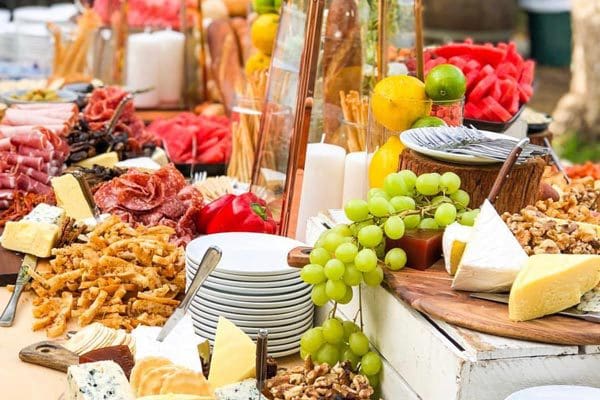 Canapé style wedding receptions:
Brides and grooms often think that canapé wedding reception catering is not really an option. At Boardwalk Catering we think that canapé wedding receptions are alive and well with a number of our brides and grooms considering this option for a relaxed style of wedding. Canapé style receptions can also be effectively combined with another reception style such as canapés and share plates. For example, the guests could be offered a selection of 4 – 5 canapés for about an hour or so whilst the bride and groom were getting photos, then they could be invited inside to sit down and have share plates as the 'main course'.
The benefits of canapé style wedding receptions
are that an amazing range of food can be served which accommodates almost every taste, dietary requirement and preference so it is very easy to cater for any dietary requirements. They also allow the bride and groom to easily work the room and chat to all their guests. Canapé wedding receptions also take up less of the venue area so work well when space is at a premium. Just make sure that there is some seating available for older guests.
The drawbacks of canapé style wedding receptions
are that they are not as traditional or formal as a seated reception and for this reason are suited mainly for casual weddings or where space is a premium.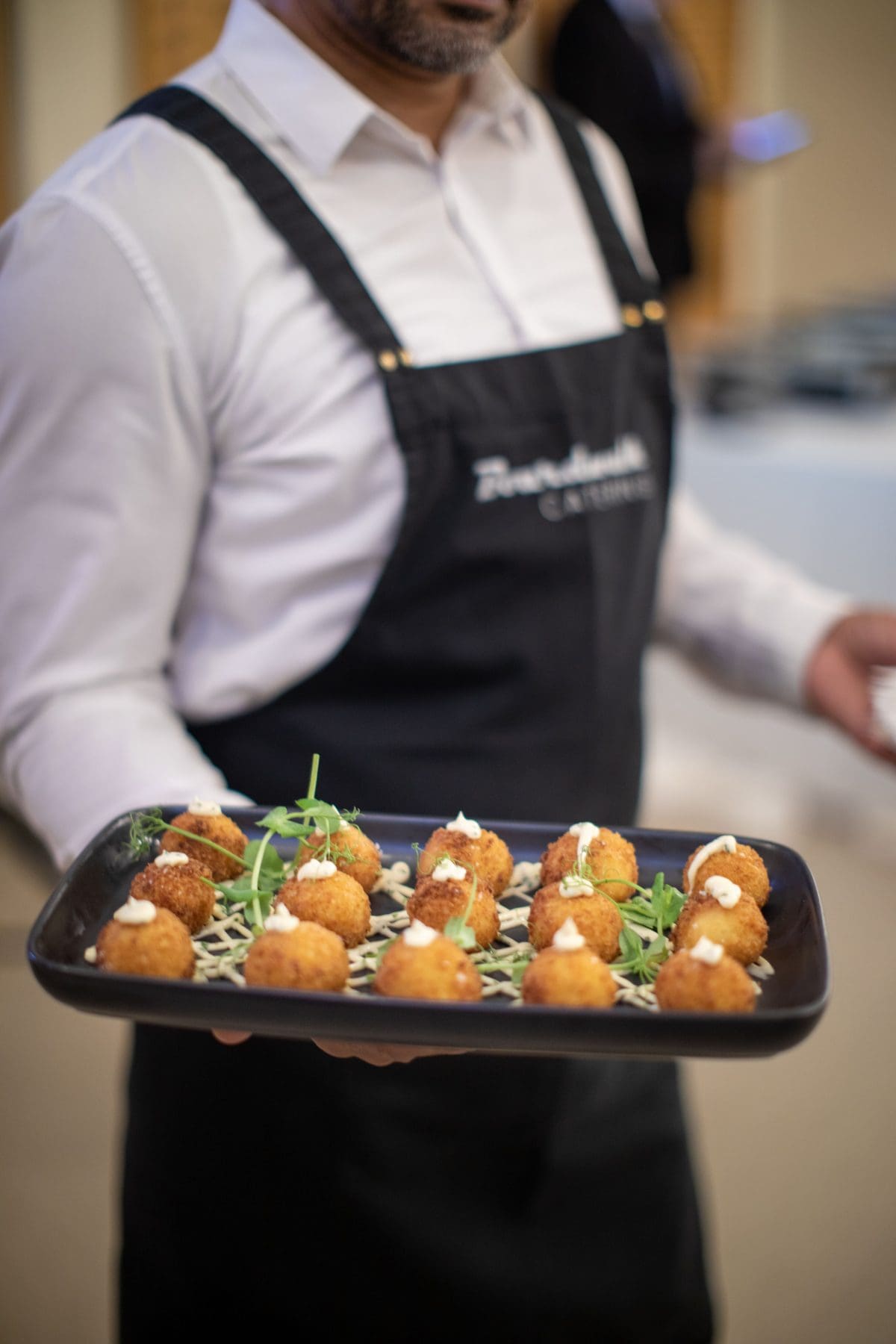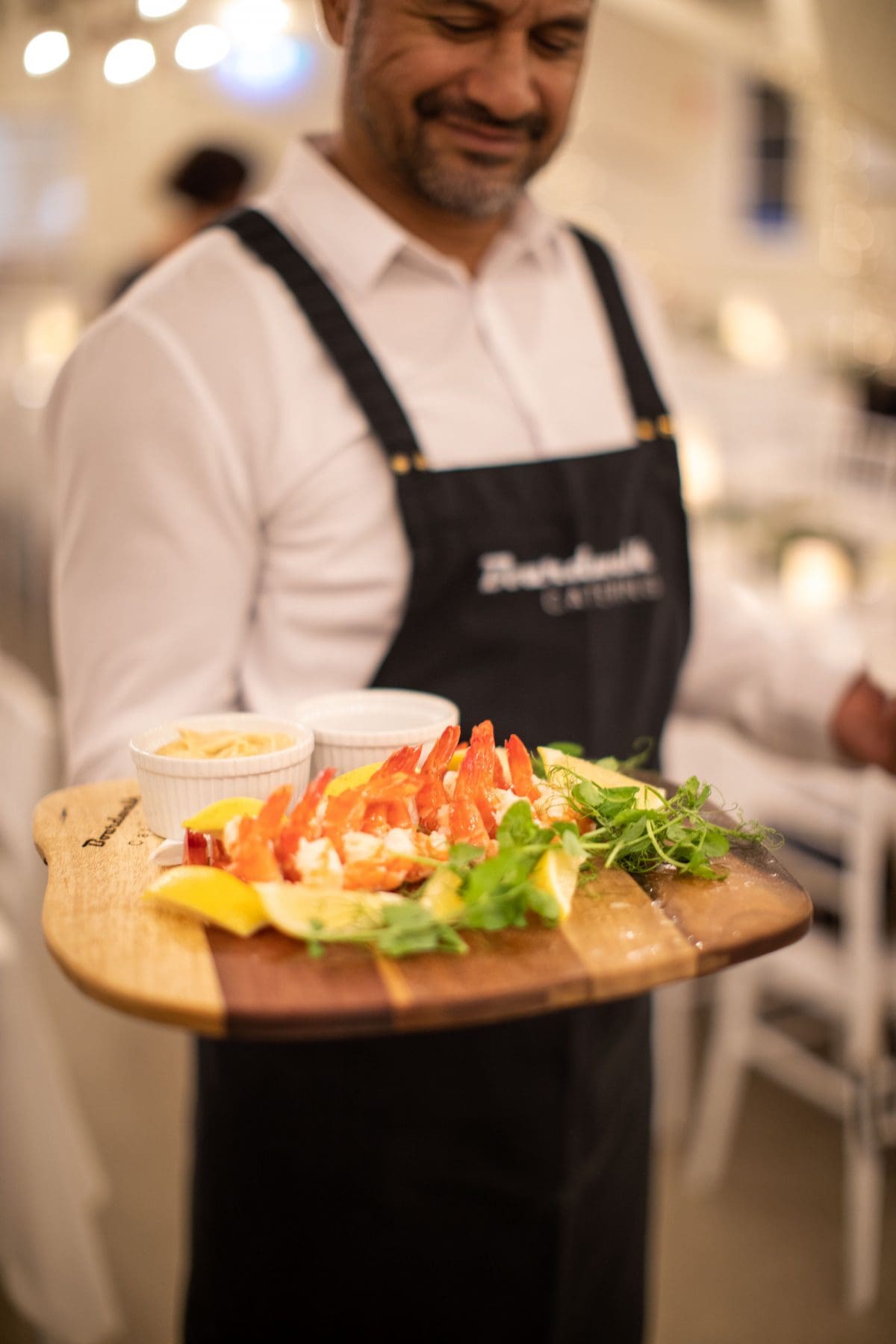 Boardwalk Catering has a range of different wedding catering options which can be suited for a variety different bride and groom preferences. The main thing that we like to mention to brides and grooms, is that your wedding day reflects you and your style. If you want to have a plated menu, then go for it. If you want to have food stations, then that's perfect too. If you want to have a circus themed wedding, then maybe give us a call – as we have catered one of them too!!!
Planning your upcoming Sydney wedding and requiring wedding catering?
Please do not hesitate to give us a call or send us an email. You can also check out our wedding catering page here to learn more about how we can make your wedding vision a reality.