Why a super yacht on Sydney Harbour is the best unique venue for your next event.
Once upon a time super yachts were only for the rich and famous. Over time the market for super yachts and catered super yacht events has grown substantially and become much more affordable, accessible and enjoyable.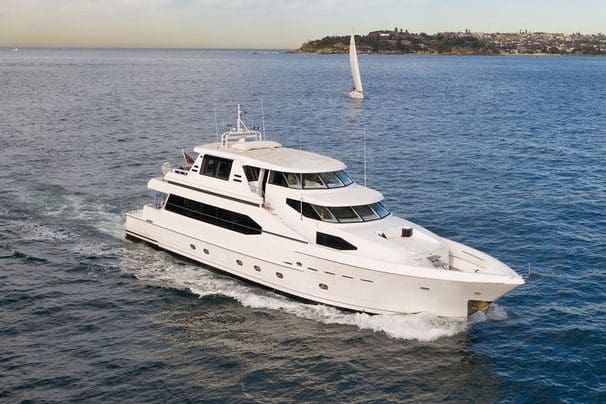 Boardwalk Catering are the preferred Sydney caterers on board AQA and State of the Art which are both based on Sydney Harbour.
MV AQA Sydney:
MV AQA Sydney is one of Sydney's finest luxury vessels. At 92' overall, she is a custom built Warren Motor Yacht which can accommodate up to 64 guests canapé style. She can cater for a large variety of events and functions from product launches to formal dinners, weddings and Christmas parties. We have prepared a specific menu for MV AQA which can only be ordered for on-board events and can even customise our menus to suit individual clients.
MV AQA is known for her class and versatility. There is rarely something which cannot be sourced or provided on board. This means that MV AQA can be adapted to suit individual event requirements and ensure your next event is a success.
Cruising capacity:
64 guests – cocktail cruise
45 guests – buffet dining
40 guests – formal dining
6 guests – overnight
MV State of the Art:
MV State of the Art has been specifically designed for cruising on Sydney Harbour. With sleek lines and a versatile interior, she is perfect for your next event of up to 35 guests. She boasts a full AV system with flat screen television and plug-ins for PowerPoint presentations. Her interior consists of polished timber floors, designer furniture and a full commercial galley, which makes producing restaurant quality food a breeze for us.
MV State of the Art provides a full end to end service and is fully licenced for beverage service. There is also an option to BYO food and beverages which can save you some money if you are on a budget. Obviously we recommend that you take advantage of our partnership with these beautiful vessels and have a fully catered event.
Cruising capacity:
35 guests – cocktail cruise
20 guests – buffet dining
20 guests – formal dining
12 guests – off-shore
Both vessels are designed to ensure charters are enjoyable, practical and leave a lasting impression. They are perfect for the office Christmas party, product launch, entertaining clients, family party, wedding or even just for a day on the water.
Please get in touch with us if you would like to make an enquiry for one of these amazing vessels and experience absolute luxury and a unique Sydney venue for your next event.
Have a great weekend!
Tim and Alli.
*Please note all photos are from Sydney Harbour Yacht Charter (www.shyc.com.au). Full credit to the photographer.