Gold Licence Catering Sydney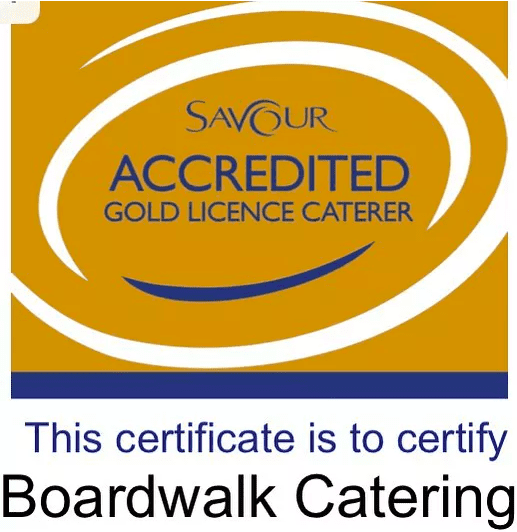 Boardwalk Catering is now a certified Gold Licence Sydney Catering company.
The Restaurant and Catering Association is an Australia wide association facilitates the Gold Licence program in all states.
​
The Gold Licence is a symbol of quality which can be used by potential customers or clients when considering hiring a Sydney Catering company. This Gold Licence represents that the company is operating at 'best practice' level. It ensures that the business follows strict guidelines on food safety, work standards, insurance, food transport & delivery and workers compensation.
It is reserved for the top Sydney Caterers and Sydney Catering Companies and often forms part of a key selection criteria for Government Catering opportunities and larger venues. This quality level also allows Boardwalk Catering to access 'Gold Licence only' venues. This means that we have access to an even larger selection of function and event venues than ever before.
​
Boardwalk Catering had to ensure they met the selection criteria for the following:
​
1. A satisfactory Health Inspection Report: to ensure that we are producing quality, safe food. We take this element extremely seriously.
​
2. A certificate of currency of workers compensation: to ensure we are properly insured and able to look after our employees should something ever go wrong.
3. A certificate of currency for public and product liability insurance : In other words that we are fully insured for any problems.
4. Food safety program: This outlines how our food is prepared and what logs we keep in order to ensure our food is produced safely. It also ensures that our staff know how to safely produce food. It covers elements of food preparation such as hand washing, heating, cooling and food transport. I am happy to show our food safety plan to anyone who may be interested.
5. Background resume: My resume showing at least 5 years experience in the catering industry as well as my full trade qualifications.
​
6. Food safety supervisor certificate: to show that we monitor our food to ensure its safe production
7. A statement explaining how you keep food safe during transport: As most of our catering jobs are off site, food transport is particularly important. Boardwalk Catering ensures all food is transported safely and remains out of the danger zone.
​
The Gold Licence is a huge step forward for Boardwalk Catering. Our big sister Paella amor has also achieved Gold Licence catering status and is the only paella specific catering company in Sydney to achieve this honour.
​
If you are considering hiring a caterer for your upcoming event or function, consider Gold Licence caterer Boardwalk Catering. We would be more than happy to assist. Have a look at our functions below or browse the menu here.