The Boardwalk Catering Sydney, Market Tour
Not really a past event where we provided catering, however; this 'event' was crucial to our menu and staff development.
Last Wednesday we took an early morning trip to the Sydney markets with our key staff members to chat to our fruit and vegetable supplier Gourmand Providore and get a tour of the markets with their Sales Director Julio. These guys are the guys to speak to if you own a restaurant or catering company in Sydney and need fruit and vegetables.
[fusion_youtube id="https://youtu.be/_fWENliBiW4″ alignment="center" width="" height="" autoplay="false" api_params="" hide_on_mobile="small-visibility,medium-visibility,large-visibility" class="" css_id="" /]
Everything is quality, from the farmers and producers who they select from to their processes and even documentation. There is a focus on attention to detail as well (just like Boardwalk Catering Sydney). We were even able to have a look around their state-of-the-art warehouse and production facility, meet other key staff members and discuss produce with growers and farmers.
The team learnt heaps! However, it was also great to see where our produce was coming from, get some new ideas & inspiration and also talk about what was coming into season so that we could plan the release of our new winter menus (coming shortly).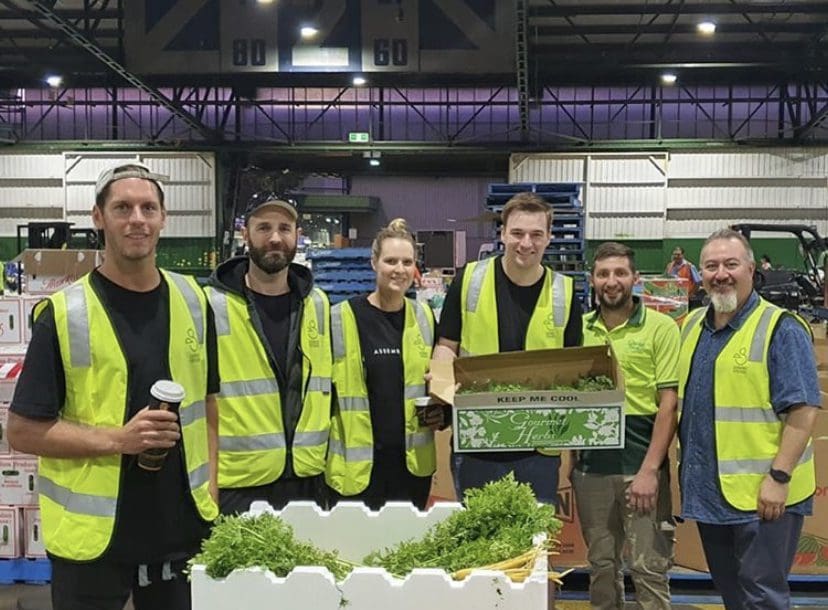 These close connections which we are developing with the industry are benefiting our clients as we are able to plan our menus and production to suit the season so that we do not have to pass on any out of season costs on. We are also able to better understand what is happening currently with the drought and fires in NSW and how this is affecting produce.
A few things to note about the market!
Everything is super fresh – woollies and coles have nothing on this! The market has produce in it that was picked THAT MORNING. This is peak quality, peak season and the best price.
There are forklifts everywhere. I'm talking everywhere. It's like dodgem cars with giant metal forks on the front.
The markets are huge. 4 different sheds and multiple growers and farmers call this place home.
It's a ghost town by 11am. All done and dusted by 11am, but starts around 2am. Whilst Sydney sleeps these guys are ensuring we have quality fruit and vegetables for lunch.
Check out a few snaps from some of the places we visited. Stay tuned for the next market visit and also for the new winter menus which will be launching shortly.
Also as always, if you have an event or function coming up, please get in contact by sending us an email to info@boardwalkcatering.com.au or filling in our contact form. We would be more than happy to send through a copy of our information pack so that you are able to see what we can do!