4 Awesome ideas for your Wedding Catering.
Planning a Sydney Wedding can be a difficult and daunting task. There are many elements to consider including decorations, venue, celebrant and even your wedding caterer. These all take time and energy however the results can be well worth the effort. A well planned wedding, executed correctly is a fantastic day of celebration, fun and enjoyment with close family and friends. Planning a wedding correctly also takes a lot of stress off the bride and groom on the actual day of the wedding giving them more time to enjoy their day and their company.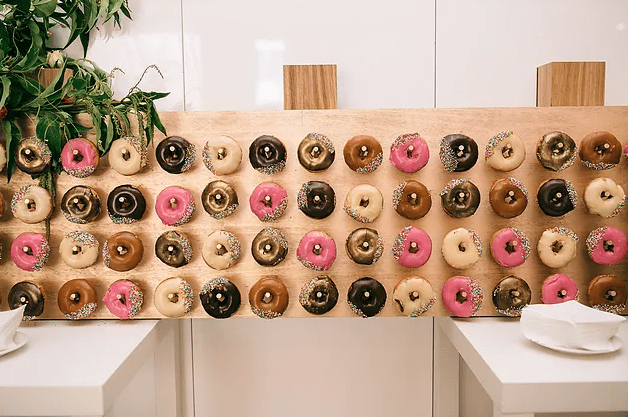 So with this in mind, we have compiled our latest list of awesome ideas for your wedding. These ideas, whilst still requiring planning are fantastic as they don't require any of your time to plan. These ideas can be completely engineered from our end of the planning process, meaning you don't have to lift a finger. This also gives you one less thing to think about. Just say the word and we can put together a personalised wedding catering package including some of the following awesome ideas.
1. A dessert station – At Boardwalk Catering we offer a range of dessert stations to suit your wedding catering needs. We also have our latest offering our donut wall which is perfect as part of the bomboniere for your wedding. If you are choosing a wedding caterer ensure you ask whether the dessert station includes plates and small forks. Due to the large age range at most weddings, it is important to offer small plates for older guests to use to put their dessert selection on. It is also important to consider guests with dietary requirements, as long as there is something for everyone you cannot go wrong with a dessert station.
2. Take home items – whether these are boxes filled with wedding cake, a slab of brownie or just a thank you note, a take home box is an awesome idea for your wedding. Not only does it give your guests something to remember your special day with, it also allows you to thank them for coming and taking the time to celebrate. Obviously we like the idea of giving people something to eat, however the options here are endless. Handwritten notes, small gifts, food items & photos are all popular choices in the Sydney wedding scene.
3. Personalised cocktails – one of the latest trends in the Sydney Wedding Catering Scene is the use of signature or personalised cocktails which are reflective of the bride and groom. The idea here is to impart some of you and your fiancés personality into the welcome drinks. Did your husband propose on a holiday with a margarita in one hand and a ring in another. Perfect. What ever your style or personality, it should be reflected in your drink of choice. You can also personalise by adding ingredients that you both like or even with personalised cocktail umbrellas or engraved coconuts.
4. DIY stations – Think build your own slider station, a taco bar or even a roll your own sushi. These stations are yet to crack the Sydney Wedding Catering scene but we predict these will be HUGE next year. People are becoming more and more interested in how to create dishes and this is a perfect way to show them. Of course it is important to have some regular food circulating incase the station is very popular but it is a great way to engage your guests.
If you are planning a wedding and looking for an experienced wedding caterer in Sydney, look no further. Let our experience be your success. Let us help reduce planning stress and offer guidance for your big day. After all, it's what we do!
Get in contact for Sydney Wedding Catering.