Becca & Jack's Wedding
Becca & Jack had their beautiful ceremony and reception at Bayview Yacht Racing Association (BYRA) on Sydney's Northern Beaches.
Becca & Jack wanted a casual and relaxed wedding and wanted their guests to interact with each other.
BYRA is a fantastic venue to customise for your wedding as it provides a blank canvas on which to project your individual style. It is perfect for canapé events as well as for food stations or buffets boasting a massive back deck which can be covered with a clear roof marquee in the event of bad weather.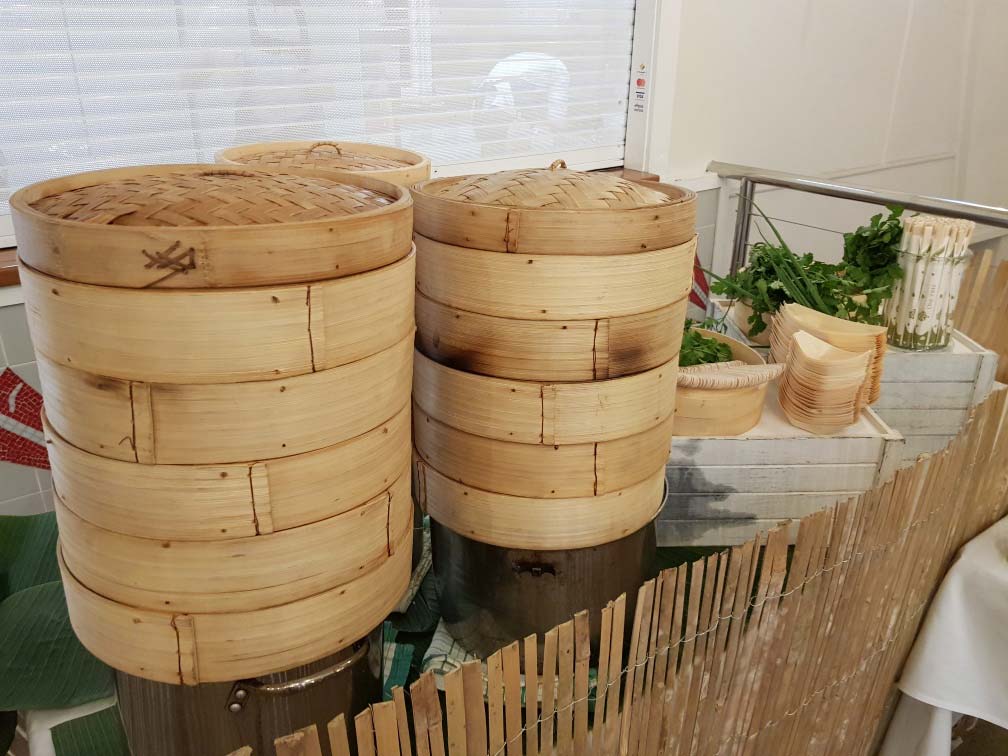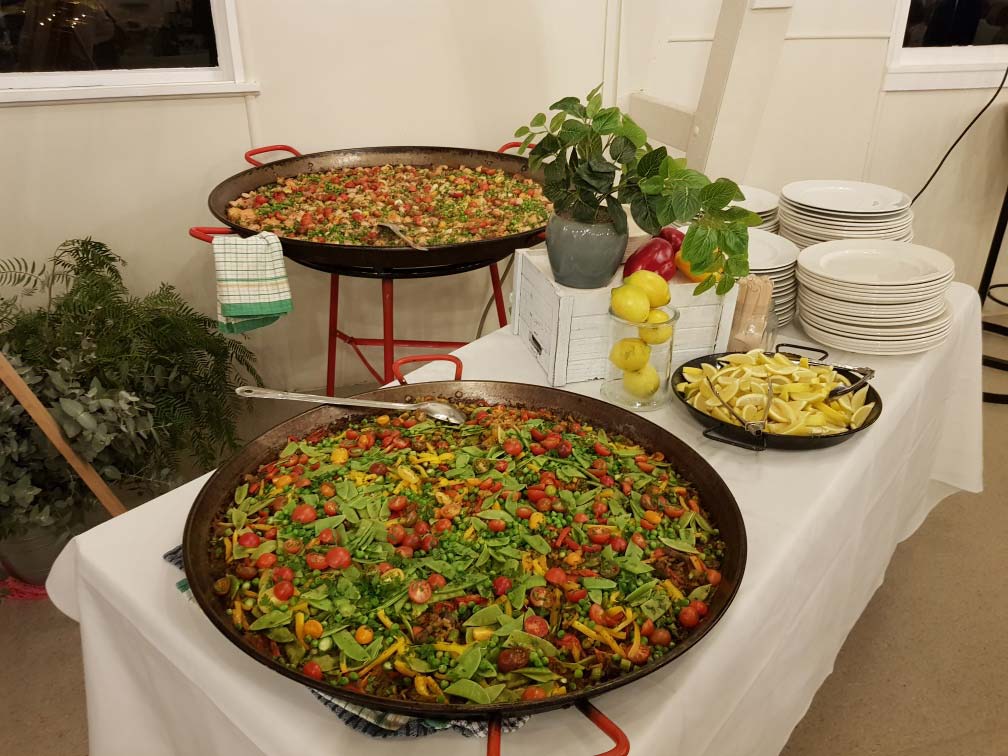 To suit their wedding brief Becca & Jack provided an antipasto station on the back deck while the bridal party was off having their wedding photos.
Becca & Jack provided their own beverage but had our bar staff serving drinks.
MENU
To keep the casual wedding vibe going we offered the following menu:
(Live action) Paella Station. Your personal chef cooks paella live onsite.
Becca & Jack offered our mixed paella which includes chicken, chorizo, salmon & prawns as well as our vegetarian/ vegan paella.
Paella is the perfect item, it fills your guests up and also covers any dietary requirements that may pop up. All our paella's are gluten and dairy free.
At BYRA, the paella cooking has to take place downstairs as they have a strict no open flame policy. This works well for us as we can cook the paella downstairs and then bring it up to the main level for serving.
Next up was our Dumpling Bar. This station includes a selection of handmade dumplings steamed fresh to order. Our station includes 4 dumplings per person.
The dumplings on offer at Becca & Jack's wedding were pork and prawn dim sim, prawn gow gee, BBQ pork bun and vegetarian dumplings. This was accompanied by a variety of sauces, forks, bamboo boats, chopsticks as well as styling to tie all these elements together.
We also offered a whole honey baked leg ham with various mustards, relishes and soft bread rolls. Cooked at our production kitchen and then warmed to order at your event this is a great item to feed people and allows people to make their own fresh bread rolls filled with delicious ham. It's a great supper snack for when the dancing has started and people might be looking for something a little extra.
Build your own slider station is always a hit. This station allows your guests to make their own sliders using the toppings they desire.
Our build your own slider included gourmet slider rolls, freshly cooked Angus beef patties, cheddar cheese, sliced lettuce, red onion and mayonnaise.
We also provide a vegetarian option which included grilled mushroom patties.
Gluten free rolls were also provided so gluten free guests didn't miss out!
Finally our salad station.
Our salad station included:
charred corn, heirloom cherry tomato, wild rocket, avocado, smoked paprika & lime
Broccolini, snow peas, orange, chilli, toasted hazelnut dressing
Roasted beetroot, goats cheese, toasted walnuts, rocket
Although Becca & Jack decided to hire our crockery and cutlery for their wedding, all our food stations come with disposable plates and cutlery.
Each of our food stations are styled in their own way, this is included in our food station prices.
For dessert Becca and Jack had their wedding cake with vanilla ice cream and fresh seasonal berries. Cutting of the wedding cake is a complimentary service we offer at Boardwalk Catering.
Our wait staff set the wedding cake, ice cream and berries as a food station for guests to enjoy throughout the end of the evening whilst dancing and celebrating.
We are one of the preferred caterers at BYRA and have a large range of experience catering for weddings. Weddings are one of our favourite types of events at Boardwalk Catering so get in contact to discuss your theme or vision and we will be able to help!