Sydney wedding catering at Bayview Yacht Racing Association (BYRA) – Mitch and Ness
A few weeks ago, we were lucky enough to cater for the lovely couple, Mitch and Ness for their early March wedding at Bayview Yacht Racing Association (BYRA) on the Northern Beaches of Sydney. The ease of this venue is what attracted the Directors of Boardwalk Catering Tim and Alli to get married here too. Their wedding is in May 2019 so stay tuned for the full blog post on what they did with the space.
BYRA is an awesome wedding venue, positioned directly on the water with views of the bay and a huge outdoor deck on the rear of the club giving a great spot to get married or have canapes before the reception takes place. Mitch and Ness used this space perfectly for their wedding ceremony taking advantage of the large wooden benches already in place on the back deck. They also put down a white carpet and had additional chairs at the rear of the bench seating which are included in BYRA's venue hire charges.
We first met Mitch and Ness back in 2018 when they came in for their complimentary wedding tasting. The feedback which we received was extremely complimentary and they even chose their wedding menu on the day of the tasting at our commercial kitchen in Artarmon. Talk about organised! Through the next 8 months or so we finalised the final details and hire requirements as well as the staffing arrangements and run sheet for the evening.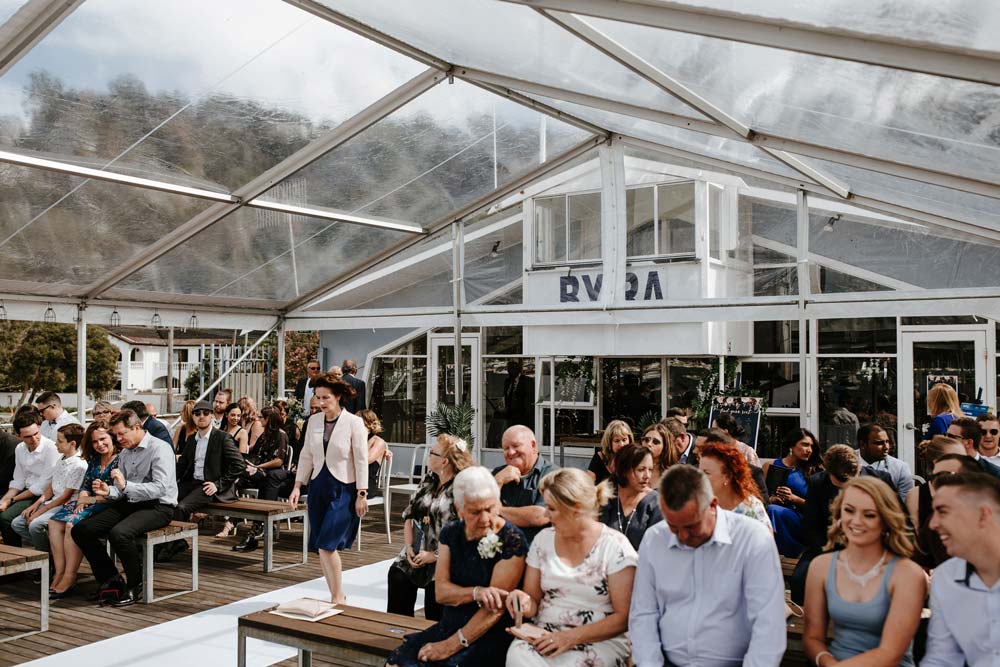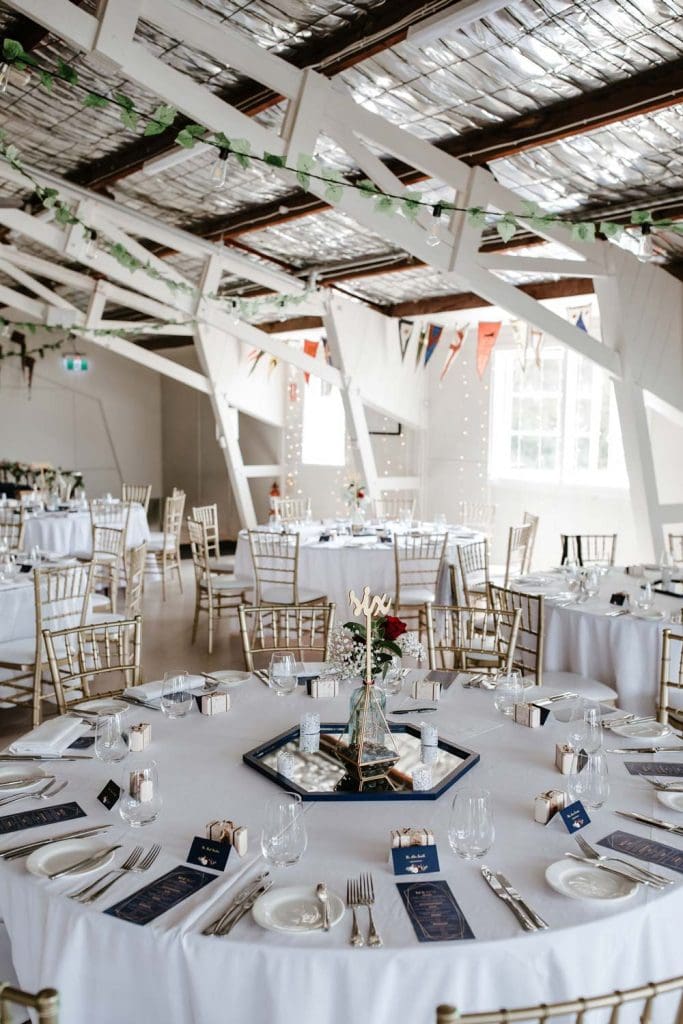 Using Event Hire Services, Mitch and Ness decided to hire 7 round tables and 70 gold tiffany chairs for the event which looked stunning in the seating area of the room. They used the space creatively with fairy lights draped around the room, greenery running over the festoon lighting (provided by the venue and included in the venue hire charge) and even greenery on the back deck to bring in life and freshness to the space. Each of the seven tables was clothed in a crisp, white, floor length cloth and topped with a really tasteful hexagonal mirror in their colour theme (dark blue or royal blue). They also had deep red roses and baby's breath as their floral arrangement on the centre of each table.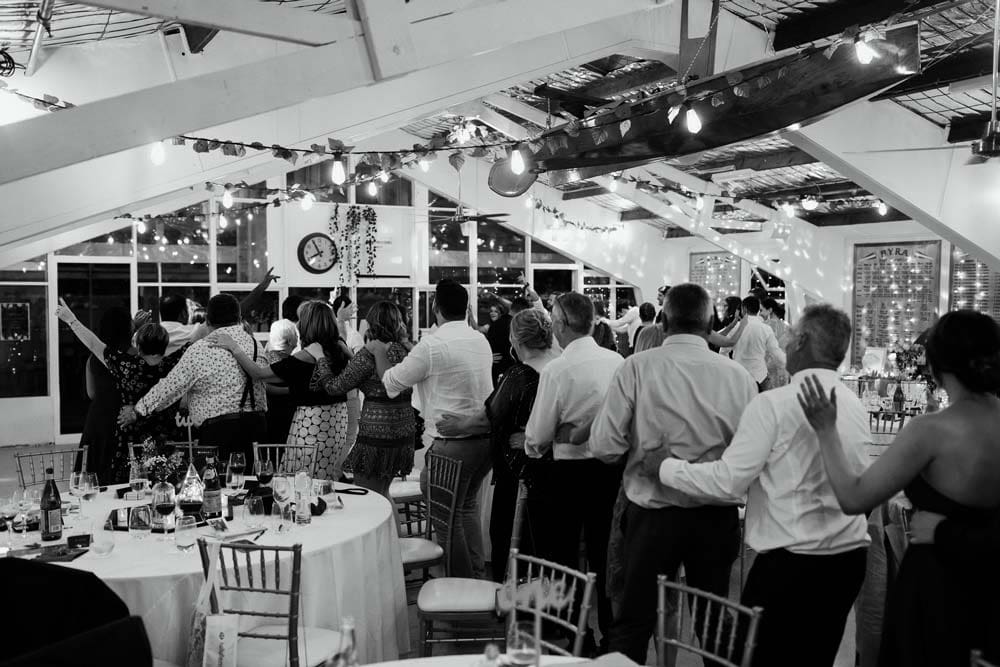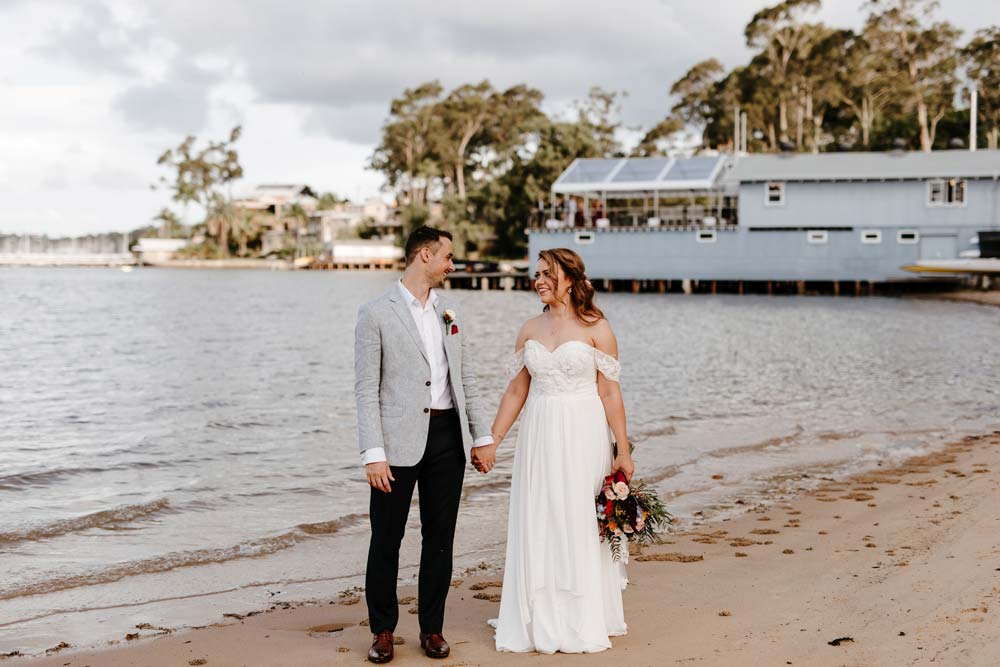 We looked after the cutlery for the two-course dinner and also provided all the plates and glassware for the event. Timeless red wine, white wine and stemless large water glasses were arranged on each table with folded crisp napkins, side plates and place cards. It was classic but beautiful, timeless but modern and photographed beautifully with the large side west facing windows of the club. In the room they also managed to fit a donut wall, a bar and the dance-floor. For a wedding of 70 people this was indeed a great venue with plenty of space.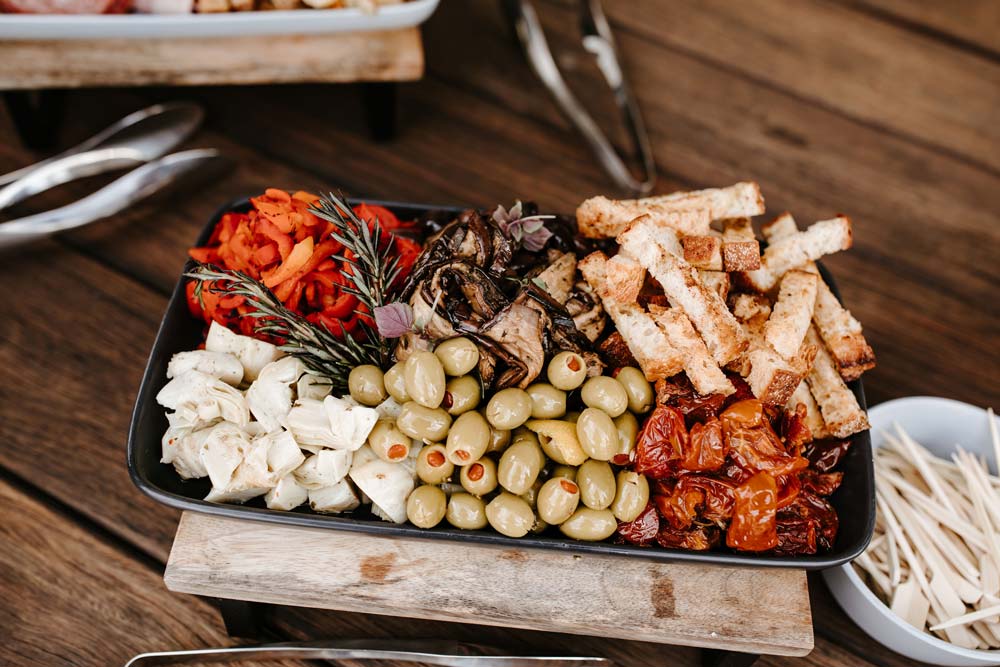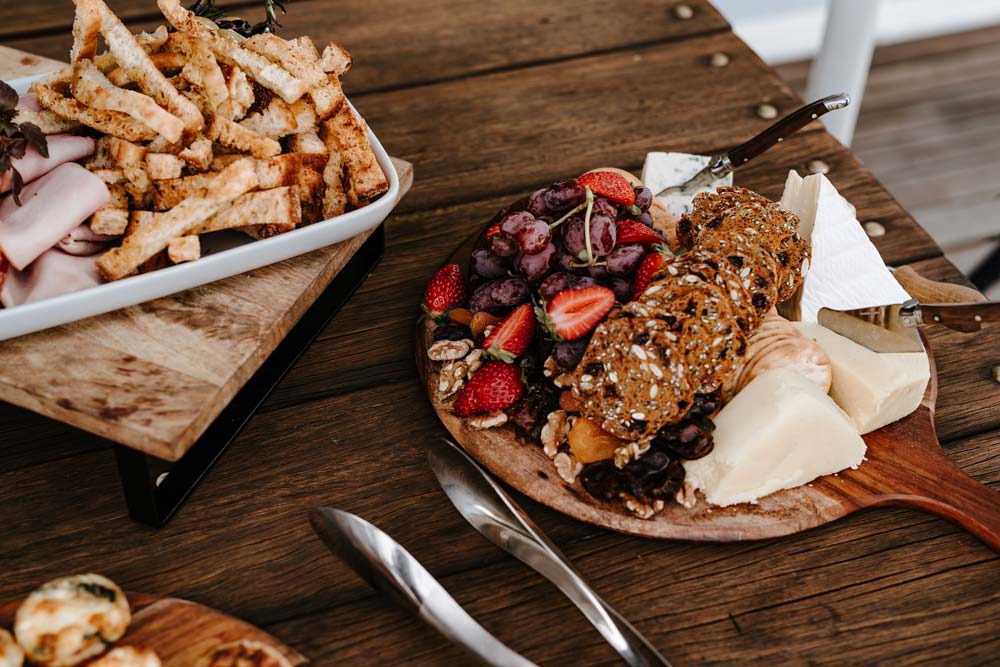 After the ceremony, Boardwalk Catering re arranged all the chairs and tables into a cocktail style arrangement and set up a small platter station for guests to help themselves to. This was a huge hit and provided everyone with something to eat whilst they were waiting for Mitch and Ness to finish their photos.
The MC then moved everyone inside for bride and groom trivia which was a great idea and proved a lot of fun for all involved! The kitchen in the meantime was preparing for entrée and main course for the evening and was ensuring that everything would be perfect for the dinner.
For entrée we served:
Duck breast, beetroot fluid gel, golden beetroot, asparagus, sorrel
OR
Roasted Berkshire pork belly, pepper caramel, grapefruit, fennel, chilli salt
For main course we served:
Spiced free range chicken breast, saffron arancini, baby vegetables
OR
Riverina beef fillet, potato fondant, Dutch carrot, rosemary jus
Entrée and main went out without a hitch and following speeches we cut and served Mitch and Ness's wedding cake which was absolutely stunning and made by one of Ness's bridesmaids. Our pack up was then quick and easy quietly bumping out down the main stairs when the dancing started. Whilst the kitchen team bumped out our waitstaff offered tea and coffee to all guests and kept distributing wedding cake.
Mitch and Ness then had their sparkler send off and said their goodbyes before departing the venue. Our staff then packed down all the tables and chairs and stacked them neatly so that the club could function for their sailing day on the Sunday. All this hire was then picked up and removed on the Monday. Such an easy and accommodating venue!
BYRA continues to update the space with improvements including recently a large 4 speaker sound system which allows for clients to play their own background music.
If you are recently engaged or are looking for a wedding venue in Sydney with fantastic water front views and a huge range of customisable options, look no further than BYRA. It truly is one of Sydney's unique venues and is perfect for weddings. We also love it because it has a large kitchen and increases all the possibilities of wedding catering due to its thoughtful layout and facilities.